Post by dawnangel on Jun 8, 2010 12:04:44 GMT -5
Hello! Call me Dawn, and here are my characters:
Unicorns~
Name: Nekale
Race: Unikore(Unicorn)
Gender: female
Companion: none yet
RP Colour: none yet
Skills & Abilities: Nekale is a very athletic mare. She is powerful, swift, and graceful. She easily soars over large objects in her path and races to the edge of any terrain as quick as the eagle. She can easily and safely travel over tough terrain.
Personality Strengths & Weakness: Nekale is a determined, fierce, and stable(not insane) mare. She is a fierce and caring friend and will to just about anything to protect/ defend her friends. Though, sometimes she can "go over the edge" in her determination and not know when to stop and give-up. Also, sometimes she can be manipulated if someone says her friends are in trouble and lures her into a trap with that false information. Nekale can also be quite stubborn and not listen to other unicorns, people, and other creatures.
Relationships: Nekale is a close friend with Li Ling. She will care and stick with her friend....most of the time. If she makes up her mind and acts stubborn again she can "leave behind" her friend(s). She also can push her friends too much and make them mad and upset, even hurt. Nekale also is inspired by the grand and mysterious stallion, Ulysses. She heard stories of him when she was young and has always dreamed and thought of him. She pretends that she goes on adventures with him all the time.
Back Story: Nekale wandered from her mother at a young age and found Li Ling. Together they thrived and struggled through life as a pair.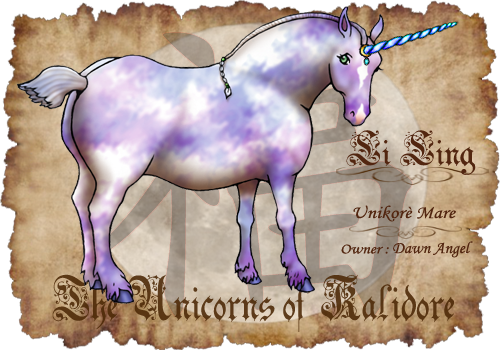 Name: Li Ling
Race: Unikore(Unicorn)
Gender: female
Companion: none yet
RP Colour: none yet
Skills & Abilities: Li Ling is a social unicorn and works well with other people,unicorns,etc. She also enjoys dancing immensely and can dance pretty well. If your lucky she might even sing to you with her beautiful voice. Li Ling is pretty great at just about all the arts.
Personality Strengths & Weakness: She is a friendly person but sometimes shy. Being shy keeps her from being the friendly unicorn she is. She cares for many people,unicorns,etc. and is very good with foals and rather enjoys being with them. This makes her very protective over young ones and helpless beings.
Relationships: She is a great friend with Nekale. Li Ling puts up with Nekale's ever changing attitude that seems to always be raging like the wild wind. She is quick to forgive Nekale when she upsets her, which helps her greatly when it comes to being a friend with Nekale.
Back Story: Li Ling was playing in a meadow when she saw Nekale prancing around worried yet interested in what was going on around her. She introduced herself and they soon became friends and cared for each other throughout their young lives.