Post by Delicious on Feb 18, 2009 14:16:23 GMT -5
>
Link to ALL of Delicious' Characters
<
Lana Madsen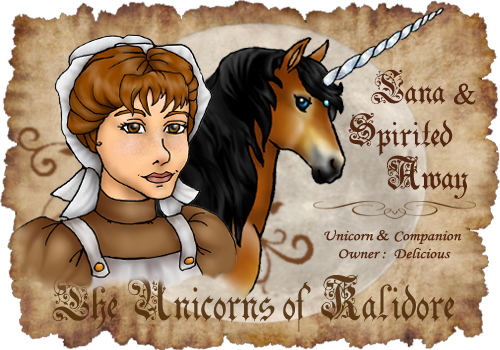 Lana:
Name: Lana Madsen
Age: 23(ish)
Race: Human
Gender: Female
Height: 5"3
Appearance:
Physical:
Snub nosed, sun-bleached brunette. Slightly freckled. Average build, slightly muscled (she is a farm girl, after all - even if she doesn't do a lot of heavy lifting). Honey-brown eyes.
Clothes:
On the farm, fairly regular, solid clothes. No bright colors.
Abilities & Weaknesses:
Magics:
Air Affinity.
Strengths:
<Pending>
Weaknesses:
<Pending>
Personality:
<Pending>
Relationships:
Friends
- Pasiphaë
Befriended mostly through Spirit, as the pair grew up together.
- Tyden
Lana is really quite fond of Tyden, and generally regards him as an older brother of sorts. Outside of Spirit, he was the main "rescuer" from her predicament on the farm, and his hand in her introduction to Kalidore is one of the main reasons for her fond feelings for the man.
- Rhaine
While living at the temple as a psuedo sort of protoge/housekeeper, Lana comes in fairly constant contact with the young Guardian. The more time they spend together, the more Lana comes to rescpect, admire and enjoy Rhaine's company.
-Xanthe
Lana views Xanthe as sort of a mischievous younger sibling. While staying in Kalidore, Lana misses her younger sisters quite a bit, and therefore makes up the lack by spoiling and coddling Xanthe.
Family
Family details (those still living @ the farmhouse) -
Family Name: Madsen (of danish decent)
Father: Geoffrey Madsen (late forties/early fifties)
Mother: Adele (late thirties/early forties)
Eldest Son: Thom (18), Shaun (16), Frederick (15)
Daughters: Lana (23), Marta (12), Mia (10)
Other siblings over the age of 16 (1 sister & 1 brother respectively) have moved out, but live not too far away. Father is a regular non-nonsense type. Mother is practical, but has a well developed motherly instinct. Sisters are ... definitely young girls. Love most things shiny, and new pretty clothes and jewellery - and have thought boys are fairly hot stuff for a while (starting a bit early out on the farm - and Marta in particular has a thing for Tyden). The brothers are your typical boys - all rough and tumble, but love their sisters and family.
Enemies
- Liam (sort of)
Lana is still fairly wary of the man, due to the confrontation in Ireland. While she believes Pasiphaë's assertions that he remembers nothing - she still feels too uneasy around him to spend long in his precense even in the company of others. And never alone.
Backstory/Character History:
Where (on earth is your companion from?
Southern US, farmland.
What *era* is your your companion from?
Late 1800's (
Seeking A Companion RP
)
What first brought her and her unicorn together? -
One of the key reasons (outside of that ephermal quality that makes up the comapanion calling) is Lana's precarious position because of a key character feature - the poor girl is completely deaf.
She lost her hearing when she was 8, due to scarlet fever, and although she lost her hearing in the "post lingual" state - she is now completely removed from the very boisterous and close-knit family social network that she was previously a part of (none of her family is deaf. None of the surrounding families are deaf. etc. etc.)
Her family has tried their best to work with the situation, but it is a rather hard and rough job trying to farm in the late 1800's - post civil war, free labor etc. etc - so after she recovered from her bout with the fever - and her loss of hearing was made apparent - she was relegated to the house to help do domestic duties and care for the little ones. (Her parents were too poor, and too in need of extra hands to send her off to a deaf school) She's now in her mid twenties, and the little ones are little no longer. Most of her sisters over 16 have married - and she's viewed (while still loved by her parents and family) with some exasperation - most men her age in the area were too spooked or prejudiced against her state, and she's now quite an "old spinster".
The family and surrounding friends have cobbled together a rudimentary sign language of sorts, but nothing that allows her to speak her mind or opinons - or talk at length. She soon latched upon the idea of writing and art to express herself - but large amounts of paper (much less paint) etc. are dear commodities for a poor farmer's spinster daughter, and so they are rarely come by.
... thus it is this NEED for someone to talk to, to converse with, to share her self, her stories and her imaginings that calls to Spirited Away... and the unicorn visits and does just that - taking her away to a magical place of wonder, but most of all, true and complete companionship.
The farmhouse is a bit cramped due to the large family - only a three bedroom, the girls and the boys sharing quarters respectively. Has a single living room which merges into the dining room/kitchen - complete with a cast iron stove.
They're a fairly kind, if straight-forward folk - not particularly well off, but not against sharing what they have. Not your common gullible rube though - they won't just give things away without a good reason. Very family oriented.