Post by jadecorrine on Jan 15, 2009 13:06:44 GMT -5
<picture pending>
Name:
Cheri
Age:
22
Race:
Human of mainly Norwegian/German descent
Gender:
Female
Height:
5'5"
Companion: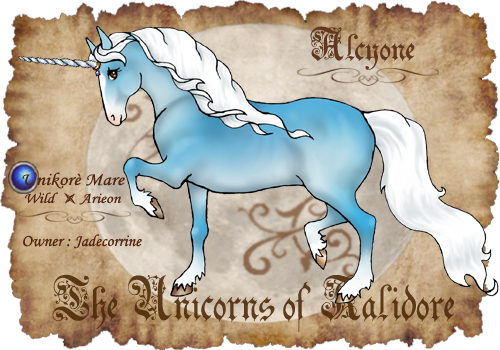 A beautiful sky blue palomino named Alcyone. She is a quiet inspiration, taciturn and gentle. She dislikes using her voice, finding it crude, and would much rather communicate with her mind and body language. She is a silent rock behind Cheri, pushing her out of her comfort zone and lending her strength. In return, Cheri can always make the dignified mare laugh.
Character History -
Where on earth is your companion from? She moved around a lot when she was younger, but she found the Gate when she was living in Chicago with Kip.
What era is your companion from? 2008
What first brought her and her unicorn together? A need for true friendship. (see Ulysses' Odyssey)
Physical Appearance & Apparel:
Cheri will never be a supermodel, but her face is pleasing, described more often by those who know her as "cute" than "hot" or "gorgeous." Her lips are often quirked in a wry half-smile and her blue eyes reflect intelligence and humor. Her hairstyle and color changes often, but at the time she found Kalidore's magic gate it was back to her natural blond, a little past her shoulders, and playfully streaked with purple. She has several expansive tattoos covering her back, arms and legs which are easily covered with pants and short-sleeved shirts. She also has many piercings, including several in her ears, two in her eyebrow and one each in her tongue and navel. She won't tell where the rest are. She favors black shirts, blue jeans and boots, although she does love to dress up in finery or costumes.
Magic Type:
Cheri is far too new to Kalidore to have developed any magical abilities.
Skills & Abilities:
Cheri is very empathetic, understanding and tactful. Her friends often choose her to come to for advice or someone to open up to. She knows when someone needs some hard truth and how to give it with no hurt feelings, and she knows when to keep her mouth shut and just listen. That is, when she's paying attention.
Strengths & Weaknesses:
She is a very fast learner and a skilled problem solver, but she won't jump in with her two cents unless asked for it. She's riddled with anxiety and sure that no one likes her. Her biggest fear is putting her foot in her mouth and she doesn't trust easily. Once she does trust someone, however, she is a generous, sacrificing friend.
Personality:
Cheri can be dreamy and child-like in her wonder at the things around her, but she's a bit rough around the edges. She comes with a certain moral flexibility. She hates lies and violence, but understands their occasional necessity. If she hurts your feelings, she honestly didn't mean to.
The people she left at home:
Her father and her boyfriend, Kip. She loves her father, but has never been very close to him. Her mother died when she was young and her father, being a military man, wasn't home nearly as much as he wanted to be. She'd always been an independent and solitary child, so it didn't surprise him much when he found the note from her in his mailbox telling him she had gone on a "journey" and didn't know when she'd be back.
It didn't surprise Kip much, either, when he came home to find her missing from their little apartment, although it disappointed him a little more. They both suffered from wanderlust and it hadn't been the first time one or the other of them had jaunted off, leaving only a note on the mirror and the next month's rent. Kip, however, was getting a little more weary of it, and, unbeknownst to Cheri, wanted a little more than their casual relationship as it stood.