Post by angelofmusic on Jul 25, 2008 4:57:28 GMT -5
I hope I post this right, but here is my human. Note, the picture is about how I picture her to look, the clothing though will be different as will hair and eye color.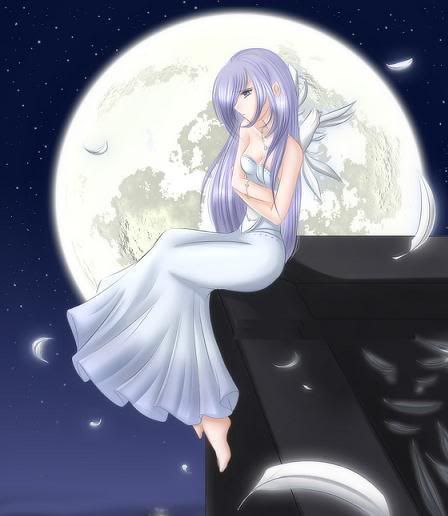 Her name is Trinity and she is of the age of seventeen. Living in Ireland around the year 984, she is a dreamer. Her mother, Cara, was a seamstress and was a fair beauty. Her father, Devlin, was a blacksmith. Trinity didn't seem to fit in or she felt that she didn't as she was always daydreaming, wondering off in the woods on walks and imagining herself as a faery or nymph. She was also one to believe that unicorns existed. Her father had tried to 'ground her' of such thoughts, tried to get her to find a boy, but it never stayed for long.
Trinity wears a dress of dark blue, long sleeved, belted around the waist. Along the bottom hem, neckline, and cuffs are gold embroidered celtic knots. She wears simple shoes to protect her feet. Her hair was long and a vibrant red, looking like living fire, her eyes were emerald green, sparkling in the light. Around her neck was a gold chain, the charm was that of an emerald in the shape of a heart, it was bought from a merchant that had traveled far and wide. She would be a fair catch for any man, yet none seemed to really to like to her as she was a dreamer.
Feeling she didn't fit in in the village, she left one night, taking a satchel and in it she placed some money, some food, her tin whistle(she loves to play and is very good), an extra pair of shoes, a dark green cloak and another one of her dresses(incase the other becomes dirty or torn). She left the village when all was quiet. She knew not where she was going nor where she would come to, she just let her spirit guide her to wherever it would, though she hopes to find a new home.
Having found herself caught in rain, she sought shelter in a grove oftrees, though decided to wander through them and see if she could keep dry. spotting light ahead, she made her way through and found herself in Kalidore. she had no idea where she was, still thinking she was in Ireland. To her amazement though, she saw unicorns. Awestruck, she was surprised when she was greeted by one named Aurellie. She showed Trinity around best she could and they've been together ever since.
Aurellie: A lovely mare, found Trinity when she was seen in the field where she and others were grazing. Seeing the girl was a bit awestruck, she took the girl under wing, so to speak, and showed her waht she could. Aurellie can be level headed at times, but she also loves fun and is not afraid to get dirty. She loves song, dance, and music, especially songs sung by Trinity or others.